Therapeutic beach walks, a lifelong fascination with geology, and the vestigial survival instinct of pattern recognition led Eliot to discover fossilized, agatized whale bones along the shores of her hometown. Beyond their inherent beauty, these fossils communicated a cautionary tale; sensing the weight of a species lost to time in the palm of her hand inspired Eliot to utilize her skills of visual communication to bring awareness to contemporary whale conservation efforts in her community.

'10 Knots' is a large-scale, reclaimed-textile-based public art installation, visually inspired by fossilized whale bones discovered along the Santa Barbara coastline. Operating through an environmental justice and sustainability lens, this project aims to bring direct action to local Vessel Speed Reduction programs and their positive impact on endangered whale safety, air quality, and underwater noise pollution in the Santa Barbara Channel .

As the concerns at play are complex and nonlinear, this project is necessarily an expansive one. Eliot believes we must think more creatively about how to encourage greater individual participation in the climate fight. Working in partnership with the California Marine Sanctuary Foundation (CMSF), the '10 Knots' project champions the cross-disciplinary strength of art and science to address a local, ecological, and environmental concern with global-relevance for adoption, through community engagement in a public art installation.

The installation will be displayed in several locations throughout Santa Barbara Channel coastal communities, and has been awarded an invitation for exhibition in parallel with the 2024 Venice Arts Biennale. All exhibitions will be free and open to the public.



VISUALS
The installation will be crafted from community-donated second-hand textiles, sewn into three large panels, symbolizing each of the endangered channel whale species—Finn, Blue, and Humpback. The tapestries will be displayed suspended in the center of a room, stacked in front of one another, with space in between, allowing the viewer a chance to appreciate the work from a series of vantages. Each tapestry will be assembled in the approximate diameter of the whale species represented, with the fabric swatches' colors and shapes echoing that of the cell structures of the fossilized whale bones.
Through a meeting with Dr. Jonathan Hoffman, Santa Barbara Museum of Natural History's resident Paleontologist, Eliot learned that the fossils she found belong to now-extinct species of whales and other marine mammals, roughly 6 to 18 million years old. The fossils owe their impressive preservation and range of colors to the distinct geology and variety of mineral deposits present within the surrounding sea cliffs.
Fabrics used in the tapestries will possess a high degree of translucency, affording the ability to 'see through' the panels as they create color casts on the walls and floors when lit; the gossamer fabrics and featherlight nature of the construction evoking an ethereal quality. In ideating this work, it was important to Eliot that the tapestries provide the viewer with a sense of duality; a commanding grandness in their leviathan scale, counterposed against a simultaneous delicacy and ephemerality, brought through by the hand-stitching and choice of materials, symbolizing the fragility of the species' endangerment and the ecological concerns at play. A myriad of threads will drape and cross between panels, representing the intersecting shipping lanes and whale migration pathways in the Santa Barbara Channel.
COMMUNITY OUTREACH

This project will host four free community workshops throughout the Santa Barbara Channel coast, focusing primarily on engaging with the community of South Oxnard, our neighbors most directly impacted by the polluting effects of expanding Port of Hueneme operations. The four workshops will be held in Goleta, Santa Barbara, and two in Oxnard; two will take place at public school assemblies, and two will be family-friendly events.
South Oxnard residents have a long history of fighting for the reclamation of their beaches and air quality from the nearby Port of Hueneme. A current proposed port expansion project would mean more diesel-fueled trucks and trains running through their neighborhoods. South Oxnard is already faced with some of the highest diesel emissions in the country, and also happens to be home to many low-income families, and people of color, groups often systematically excluded from discussions around environmental concerns.
All workshops will be held in collaboration with CMSF, with second-hand art supplies from local Art From Scrap ReUse store. A presentation on channel education and VSR programs will be followed by open discussion around environmental justice, and sustainability. Eliot will lead participants in the art-based mindfulness activity of visible mending, a meditative stitching process that can help to calm and center the nervous system. The longer we can extend the lifespan of our garments, keep them out of landfills, and lessen the demand for overseas fast fashion, the better; mending is an obvious answer to this global sustainability issue, but somewhat of a lost skill and art form today. Workshop participants are invited to contribute their hand-stitched work to be incorporated into the final installation tapestries.
The goal of the workshops is to teach community members about their local channel ecology and the importance of VSR programs, to encourage activism around issues affecting their immediate environment and health, and to teach participants the art of visible mending, a skill that facilitates sustainable garment care.
ENVIRONMENTAL IMPACT
The central aim of the '10 Knots' installation is to bring awareness and support to the CMSF's latest efforts in Santa Barbara Channel ecological and environmental protections, the Brand Ambassador Initiative, which helps brands advocate for more sustainable shipping.
A QR code will be placed next to the installation, which viewers can scan to prompt a drafted email to a retailer of their selection, personally encouraging them to join the initiative, or in other words, commit to shipping with carriers actively participating in VSR programs.
This progressive regional initiative has the potential for global scale and mass adoption. Through discussions with the CMSF, Eliot became aware of their need for assistance in educating the public and brands alike of the importance of VSR programs. Discourse around sustainability in clothing manufacturing all too often ends at production, without taking into account the transportation component. Through engagement in this public installation, individuals are able to exercise their power as conscious consumers, by letting brands know that whale-safe shipping practices matter to them and inform where they choose to spend their dollars.
The ultimate goal is to create enough awareness, via consumer pressure, to work towards a sustainable transport certification, so that some day in the not-so-distant future, shoppers can screen for products that display a logo denoting that the item will be transported sustainably, using whale-safe shipping methods.
EXHIBITION
The installation is planned to be exhibited in the following locations - first at a community arts venue in Santa Barbara, next at a historic palazzo in Venice, Italy city center, and finally at a middle school in South Oxnard, and remains open to additional exhibition opportunities. The more eyes that reach this work, and interact with the QR code, the greater exposure and impact towards progress in sustainable shipping.
LOGBOOK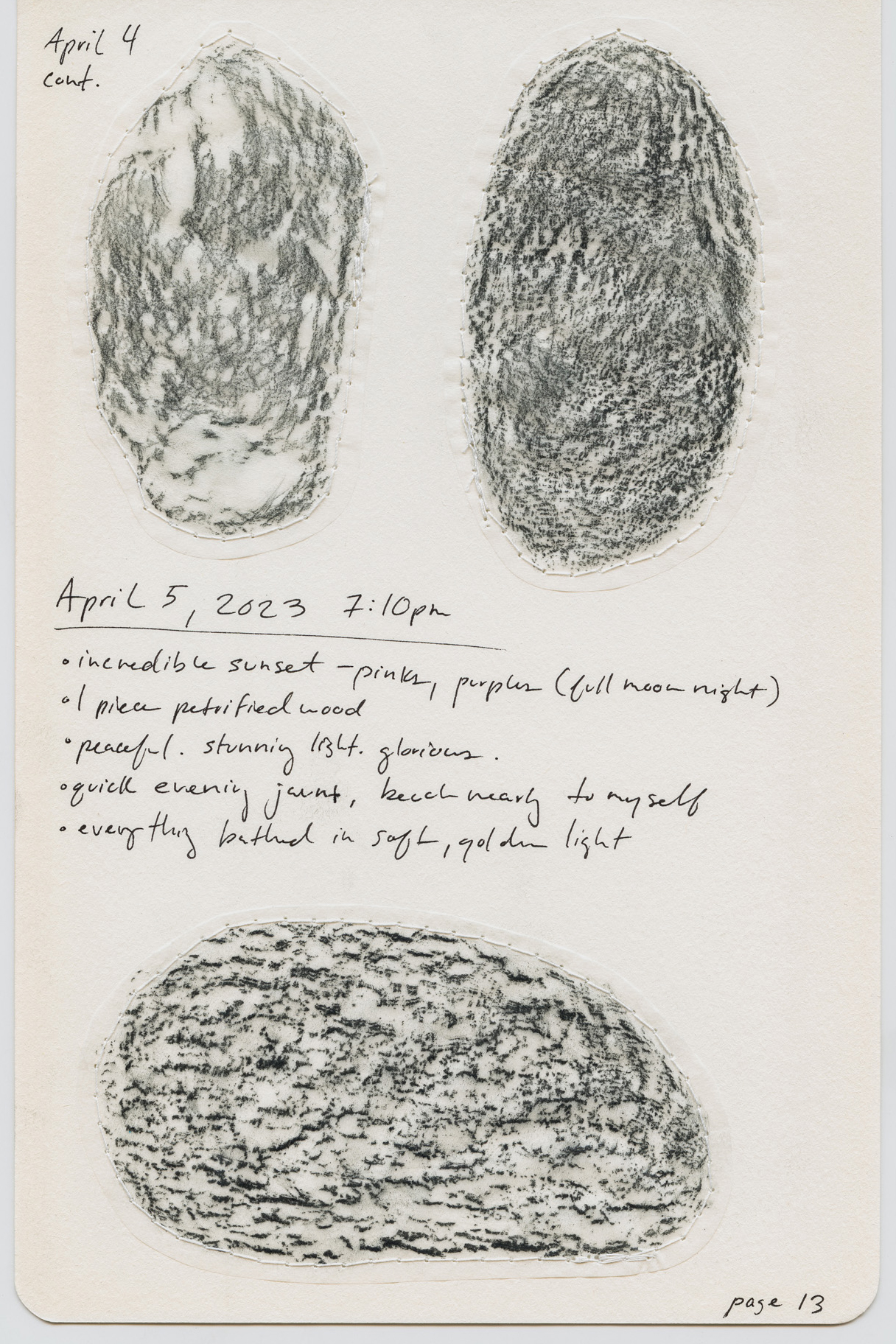 Whale Bone Logbook
journal pad, rollerball pen, tracing paper, colored pencil, sewing thread
8" x 6" , 2023
After beginning in January, 2023, Eliot continued her now-ongoing practice of making weekly trips to various stretches of the channel coastline in search of fossilized whale bones up until the installation is displayed in Venice. As this project has been in development for the better part of a year, she perceives this weekly ritual as a means of maintaining connection with the very activity, and object, that piqued her curiosity and set '10 Knots' in motion.
Inspired by the both visual and diaristic format of the
whaling logbooks from the 1800s
, Eliot documents 'occurrences' along these trips as the whalers did, jotting down notable events, environmental observations, encounters with others, and marine life sightings in a notebook she carries with her. She records fossilized bone finds from the excursion, and as they are illegal to remove from the beach, they are instead documented via frottage, by taping tracing paper to the rock and rubbing with a pencil, Eliot captures the loose characteristics and impressions of each unique fossil specimen; this systematic fashion echoing the whalers' invented pictographic systems used to report whale sightings back in the day. Once at home, she sews the rubbings onto the journal entry page. This compendium of accumulated logbook pages will eventually accompany the final installation work at select exhibitions.
To-date, 137 individual fossilized bone finds have been found and logged from these trips.
WHY VSR
Many of us care deeply about climate change, protecting endangered species, and incorporating sustainable practices and purchases into our daily lives; but do we consider how our sustainably crafted items are transported to us? Are they traveling via cargo ship? Likely yes, and if so is the shipping carrier committed to actively reducing the likelihood of fatal whale strikes? Whale strikes by cargo ships are thought to be the last remaining threat to endangered whale species.
The Santa Barbara Channel is a nexus of sorts, where waters from the north and south converge, providing a prime feeding ground for many species, whales included. During the summer feeding months, Finn, Humpback, and Blue whales travel along their respective migration pathways through the channel, which also happens to be a major thoroughfare for the international sea trade, with cargo ships crossing to and from Asia to the ports of Long Beach, Los Angeles, and Hueneme.
Whales have existed for some 50 million years, but the ever-growing shipping industry is a relatively new threat to these species, and the whales have yet to adapt; most strikes are fatal. Since whales are negatively buoyant, most sink when they die, making it difficult to obtain accurate strike counts, but through modeling it is estimated that the death toll is likely 10x the number of deceased that are actually found. Most shipping vessels are so large that they are often unaware they have even collided with a whale.
In a 2014 effort to address this ecological concern, the California Marine Sanctuary Foundation developed the Protecting Blue Whales Blue Skies (BWBS) program; shipping companies are incentivized for their ships' compliance with a speed cap of 10 knots while traveling through designated Vessel Speed Reduction (VSR) zones located within and around whale migration/feeding hotspots. Traveling at this speed has been found to
significantly reduce both the risk of fatal whale strikes and harmful air pollution emissions
. The program runs each year from mid-May to mid-November to coincide with peak ozone and whale feeding and migration. VSR zone compliance leads to safer whales, improved air quality, and less underwater noise pollution.
The incentive program is necessary because as of yet, VSR in the Santa Barbara Channel is not mandated by law. BWBS has had very positive results, including a 50% reduction in whale strikes in 2021 according to NOAA. While the program has been a success, results could be even better with wider adoption. The '10 Knots' thesis is that the most straightforward road to adoption is via pressure on brands that do business with these carriers. Frankly many brands are unaware of this sustainability blindspot, but they must pay close attention to feedback from their loyal customers. This project aims to garner awareness and support for CMSF's Brand Ambassador Initiative through community engagement in this public art installation, helping further the progress of a more sustainable, whale-safe transport future.
Read more about the work of Blue Whale Blue Skies here.
To inquire about becoming a 10 Knots Corporate or Individual sponsor
, please email eliotspaulding@gmail.com
Eliot Spaulding is a California-based, female visual artist with a focus on sustainability, craft, and community, who believes in the power of art to cross disciplines, and be a catalyst for social and environmental change.

Previously working as a commercial installation artist for nearly a decade provided Eliot with a firsthand view of the overconsumption and waste created within the fashion industry, inspiring a desire to bring the conversation of sustainability to the forefront of her emerging personal practice. With an affinity for the folk and decorative arts, her work utilizes historical craft techniques, enticing the viewer with handworked details to then reveal deeper commentary on critical environmental and social concepts of our time. Residing in her hometown of Santa Barbara, California, Eliot takes weekly ritualistic-like trips to the ocean where she gathers inspiration, studies the local geology, documents her findings, and collects washed up waste. She enjoys the challenge of working with discarded materials, aiming to transform and elevate them beyond their perceived limitations.

Eliot received her BFA from Chapman University cum laude with Departmental Honors and an emphasis in 3D Environmental Display. During her tenure as a Display Artist for major retailer Anthropologie, Eliot ideated and created one-of-a-kind art installations and window displays throughout stores across the country as a member of a select traveling team of artists. She enjoyed mentoring interns and assistants, and hosting free community workshops where she taught a variety of craft techniques involved in making large-scale works. Through her subsequent freelance business, Eliot designed and created numerous bespoke installations for corporate campaigns and headquarters, boutiques, private homes, and nonprofit fundraiser events for organizations such as Planned Parenthood and CASA. She served as a member of the Contemporaries Committee for the Museum of Contemporary Art Santa Barbara for several years until its temporary closure in 2020.

During the Pandemic Eliot adapted, and launched a painting studio practice from her apartment, selling works to clients worldwide, but ultimately found herself craving a return to her installation roots. In 2022, the concept for her emergent, public installation work '10 Knots' earned her a Scholarship for further development in Venice, Italy. While in Venice, '10 Knots' received an invitation for exhibition in the historic Palazzo Mora, running in parallel with the 60th Venice Arts Biennale in 2024. Currently Eliot is fundraising for the execution and installation of the '10 Knots' project.

Mermaid Purse

Interference-painted tracing paper, upcycled cotton thread
1" x 3" x 7"
2023




Salt Coil

Lobster trap marine rope ocean waste, waxed cotton twine
7" x 8" x 11"
2023